Archive for the "Important Announcements" Category
Daria Kasatkina – the rising star of tennis became a new brand ambassador for InstaForex. In spite of her young age, 20-year-old Daria has rapidly developed a successful career and was able to make a name for herself and settle in the top-30 of the world rating.
Victories in two WTA tournaments and seven ITF tournaments in singles are among the main achievements. Prior to that, Daria won the Junior Grand Slam tournament (Roland Garros-2014) and became the silver medalist of the 2014 Youth Olympic Games in China. Participation in the Final of the Kremlin Cup-2017 helped Daria to enter the top-20 of WTA ratings. InstaForex believes that Daria Kasatkina will make a brilliant career, firstly because she has the most important сharacter traits for any athlete, namely the determination and amazingly hard-working nature. The match of the first round of the tournament in Rome against the Czech Barbora Záhlavová-Strýcová, is a fascinating example. Daria suffered a severe leg injury, as a result of which she was forced to withdraw from the game. That happened shortly before the legendary Roland Garros, but the coaching staff did not even think about it, saying: "It will be good if you will be ready for Wimbledon." However, Daria not only strongly insisted in participation in this tournament, but brilliantly performed and gained confident victories in the first two matches.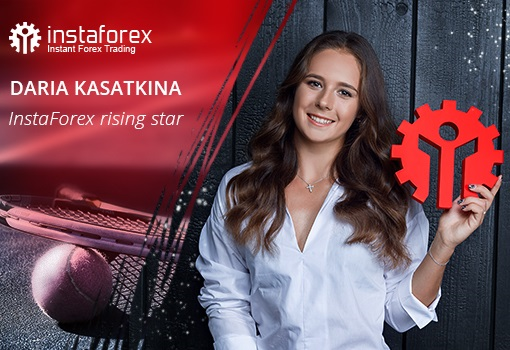 Many tough challenges are still waiting for the young athlete ahead. However, InstaForex sincerely believes that it in partnership with the company the new well-deserved victories are awaiting for Daria Kasatkina!