Archive for May, 2018
The season of the hockey championship in Slovakia came to the end. The partner of the company HKm Zvolen took the second place in the regular championship, being some two points away from leading.
During the extraleague, Zvolen knights were fighting as hard as they could. As a result, they entered the playoffs and reached the semi-finals. In a dramatic fight on the ice, our players took a back seat, but showed some muscle and offered worthy resistance to the Dukla Trencin team. The score was two to four in favor of the opponent.
In general, hockey players have created quite a lot of tense situations, unsettling their rivals. One of the strong points in the 2017-2018 season was the attack, the players masterfully put the biscuit in the opponent's basket. The best goal scorer of the Slovakian extraleague was a forward of Zvolen, Timothy Coffman. There are 33 pucks on his account.
Now the athletes of HKm Zvolen are taking a break to gain strength and train. So we are looking forward to their victorious results in the next season. We, in our turn, continue to support an active way of life and a desire for victory, providing sponsorship to promising young teams. Following the results of the season, the club on behalf of the management and the hockey team thanked InstaForex for the long-standing support and contribution to the club's development, awarding the company with a certificate of gratitude.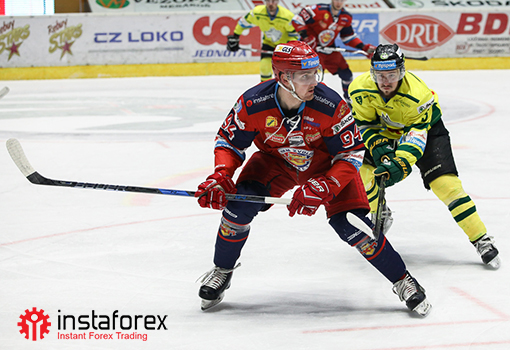 25.05.2018 Post in
Uncategorised
The news was prepared within the framework of the official cooperation of InstaForex with Liverpool Football Club.
The final match for Liverpool in the Premier League season, in which Reds hosted Brighton, was to answer two questions at once.
The first question whether Jürgen Klopp's squad would qualify for the Champions League was resolved without Reds' direct participation. Chelsea's bruising defeat to Newcastle ended its faint hopes to snatch a place in the Premier League's top four.
It was equally important for Kopites to find out whether Liverpool ace, Mohamed Salah, would break a long-standing record of 31 goals shared by Alan Shearer, Cristiano Ronaldo, and Luis Suarez in a 38-game Premier League.
The answer came at the 26th minute, when the Egypt star lashed a left-footed shot to the bottom right corner of the Brighton net, moving onto 32 goals for the season. The new scoring record made Salah win Premier League Golden Boot. Teammates backed his initiative and hammered Brighton 4-0.
Liverpool will now face Real Madrid in UEFA Champions League final on May 26 in Kiev. On such a positive note, Liverpool cannot but win the upcoming final for the most prestigious competition in European club football, returning the trophy after a thirteen-year break. As an official partner, InstaForex wishes good luck to its favorite team.