Archive for April, 2018
The team's leader Aleš Loprais together with his crew that included Ferran Marco Alcayna and Petr Pokora came first in both the truck category and the overall standings of the African rally in Morocco.
The race in the truck category was the toughest one. Eight stages, thirty three trucks and almost 2,500 kilometers stood between the team and the finish line. Nevertheless, InstaForex Loprais Team withstood this challenge and won with a 23-minute lead over the silver winners.
"This race is a part of our Dakar 2019 mission and it's really nice to win like this. It was a very difficult African adventure, but a successful one, a golden one. I'd like to say thank you to the guys in the cabin, to our mechanics and also all our partners for their support," Aleš Loprais said after the finish. The crew solved technical problems successfully. They even managed to deal with three tire punctures that occurred during the second stage. Thus, the team consolidated its lead in the overall standings with the result of 31:02:08 hours.
"Punctures are just part of this difficult competition. I can't wait for the next challenge," Petr Pokora added.
InstaForex congratulates the team on the well-earned victory in the Morocco Desert Challenge and wishes that the competitive spirit and morale of the crew get stronger during the summer season ahead of the 2019 Dakar.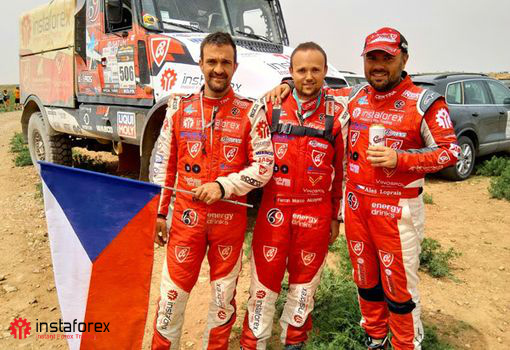 Dear traders!
In honor of the victory of tennis player Daria Kasatkina in the semifinal of the Indian Wells Master tournament, we increased the bonus to $5 000 under the Chancy Deposit campaign in April.
Now, if you replenish your account until April 30, you become a participant of the campaign and a contender to win of $5,000, which you can use in Forex trading. The Chancy Deposit contest is held monthly. Every time we change the bonus size. Follow our news and professional careers of our partners because every participant of the campaign has a chance to win the prize funds!