InstaForex – official partner of Dragon Raсing
In summer 2015, InstaForex became the official partner of the Dragon Racing Team – one of the leaders in the FIA Formula E Championship, a global auto racing series for electric vehicles.
Formula E is the latest development in motor sports which embodies progress, cutting-edge technologies and eco-friendly approach. Futuristic design and electric motors reflect the contemporary vision of car racing and make the future possible today.
These qualities of Formula-E have attracted the attention of InstaForex which has been a technological pioneer from the moment of its establishment, introducing innovations and new developments in the brokerage market.
That is the main reason why InstaForex has chosen to cooperate with the young and ambitious Dragon Racing Team. In May 2007, the team made its debut in the IndyCar series, the most prestigious auto racing championship in the US. In 2014, Jay Penske, a media entrepreneur and the founder of Dragon Racing, decided to focus on Formula E. The team's first big success came with the first racing season and Jerome D'Ambrosio's victory in Berlin. Only two weeks later, the car running InstaForex branding took part in the Formula E Moscow debut.
The partnership with Dragon Racing continues the tradition that started in 2011 when the company became the title sponsor of InstaForex Loprais Team, the participant of the international Dakar Rally and winner of the Silk Way Rally 2011. In 2013, InstaForex became the official partner of Marussia F1 Team, the participant of the elite Formula 1 racing series. Cooperation with Dragon Racing is the logical continuation of the previous course.
Roman Cepelev, the Strategic Development Director at InstaForex:
"The whole concept of electric car racing gives a vision of the future of this industry. InstaForex has always used the latest technologies and has always been among the pioneers, just like Dragon Racing. Therefore we believe this partnership will provide the right synergy for both parties"

About Dragon Racing Team:
Dragon Racing was founded by top managers of Seagate Technologies in 2006. The team began its racing career as Luczo Dragon Racing. In 2009, the team completed its first season in the IndyCar series winning the Rookie of the year award.
Among other strategic partners of the Dragon Racing Team there were at different times McAfee, Microsoft, TrueCar and Chevrolet. The team is headquartered in Los Angeles while its facilities are based in the Donington Park Racing Circuit, UK.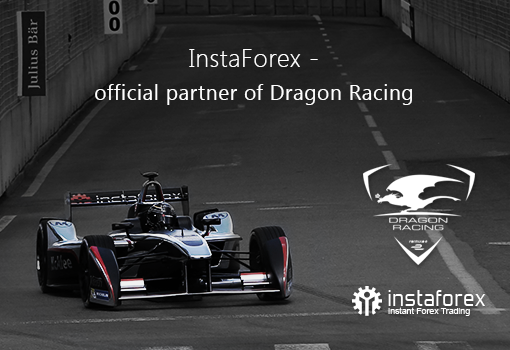 Tags: Dragon Raсing, Formula-E, instaforex, partnership
This entry was posted on Monday, July 13th, 2015 at 11:11 and is filed under Important Announcements. You can follow any responses to this entry through the RSS 2.0 feed. You can leave a response, or trackback from your own site.